Arch Coal, Inc. Reports Fourth Quarter and Full Year 2019 Results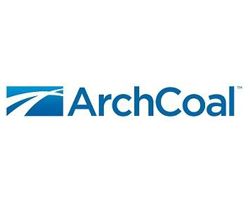 February 6, 2020 - Arch Coal, Inc. today reported a net loss of $8.6 million, or $0.57 per diluted share, in the fourth quarter of 2019, compared with net income of $86.1 million, or $4.44 per diluted share, in the prior-year period. Included in the company's fourth quarter results was a loss of $9.0 million associated with the December sale of its Coal-Mac thermal operations. Arch had adjusted earnings before interest, taxes, depreciation, depletion, amortization, accretion on asset retirement obligations, amortization of sales contracts, and non-operating expenses ("adjusted EBITDA") 1 of $43.7 million in the fourth quarter of 2019, which includes a $1.3 million non-cash mark-to-market loss associated with the company's coal-hedging activities. This compares to $122.6 million of adjusted EBITDA recorded in the fourth quarter of 2018, which included a $13.0 million non-cash mark-to-market gain associated with the company's coal-hedging activities. Revenues totaled $549.5 million for the three months ended December 31, 2019, versus $651.0 million in the prior-year quarter.
"Arch wrapped up a strong 2019 financial performance with solid fourth quarter results, even as it executed a major operational transition at its Mountain Laurel metallurgical mine and despite lower metallurgical pricing," said John W. Eaves, Arch's chief executive officer. "Excluding Mountain Laurel, Arch's metallurgical portfolio achieved costs below $60 per ton for the quarter – including another mid-$40 per-ton cost performance at the Leer mine – and delivered cash margins from its coking coal segment in excess of $30 per ton."
As previously announced, Mountain Laurel embarked upon a transition from longwall to room-and-pillar mining during the quarter, and brought that process to a successful conclusion in January. This conversion to room-and-pillar mining should translate into lower costs, enhanced product quality, and a more consistent operating performance.
In addition, Arch bought back $10.5 million of stock and made dividend payments totaling $8.0 million. In the past 11 quarters, Arch has bought back a total of 10.1 million shares, or 40 percent of its initial shares outstanding, and returned a total of $913.3 million, including dividends, to shareholders.
"We are proud of the great progress we've made in returning capital to shareholders since initiating our capital return program in May 2017," Eaves said. "With the recent pullback in metallurgical prices, we expect to allocate most of our excess cash in 2020 to the accelerated build-out of Leer South, which promises to greatly enhance the long-term, cash-generating capabilities of our metallurgical portfolio."
Arch expects to invest $220 million at Leer South during 2020 and expects longwall mining to commence in the third quarter of 2021.
Financial and Liquidity Update
At year-end 2019, Arch had invested a total of $827.4 million since May 2017 to buy back 10.1 million shares while returning an additional $85.9 million to shareholders through its recurring quarterly dividend.
Arch ended the year with total liquidity of $412.1 million, including $288.7 million in cash.
"With our premier, high-margin metallurgical portfolio and low-cost, legacy thermal assets, Arch is well-equipped to fund its Leer South growth project with internal funding, even in a softer market environment," said John T. Drexler, Arch's chief financial officer.
In addition, Arch expects to monetize its recently announced $39 million land settlement with the federal government during the course of 2020.
Looking ahead, the board has approved an 11 percent increase in its quarterly dividend, bringing the quarterly cash dividend payment to $0.50 per share. Since launching the capital return program, Arch has increased the quarterly dividend rate three times, by a total of 43 percent.
The next quarterly cash dividend payment of $0.50 per share of common stock is scheduled to be paid on March 13, 2020 to stockholders of record at the close of business on March 3, 2020.
Future dividend declarations and share repurchases will be subject to ongoing board review and authorization and will be based on a number of factors, including business and market conditions, Arch's future financial performance and other capital priorities.
Operational Results
"During 2019, Arch took significant strides to further enhance the competitive position of its core metallurgical segment – moving into thicker reserves at the Leer mine, transitioning Mountain Laurel to a room-and-pillar operation, and launching the development of Leer South," said Paul A. Lang, Arch's president and chief operating officer. "At the same time, we continued to exhibit strong cost control and solid capital discipline in our thermal segments, which allowed us to generate segment-level EBITDA from our thermal assets more than $100 million in excess of capital expenditures during 2019."
During the fourth quarter, Arch's metallurgical segment performed well even as it initiated an earlier-than-anticipated transition to room-and-pillar mining at its Mountain Laurel operation and despite weaker metallurgical market conditions.
While the longwall removal process at Mountain Laurel proved complex, the transition to room-and-pillar mining is off to a strong start. Four continuous miners were operating efficiently in room-and-pillar configuration at year-end, with the fifth and final unit expected to start up in March.
As a result of geologic conditions in the final longwall panel, Mountain Laurel was unable to recover 123 of the longwall system's 176 hydraulic shields. The company is finalizing a claim under its insurance policy of $30 to $35 million that will cover the amount of capital required for the new shields, and expects to be successful with that claim.
Arch expects to produce 6.8 to 7.2 million tons of coking coal in 2020, with per-ton cash costs for the full year of between $58.00 and $62.00. Metallurgical shipments are expected to be lower-than-ratable in the first quarter of 2020 due to seasonal dock closures on the Great Lakes that will act to reduce North American volumes, as well as the projected timing of certain other commitments.
In the Powder River Basin, sales volumes for the fourth quarter of 2019 totaled 18.1 million tons compared to 22.2 million tons in the third quarter of 2019, which benefited from strong seasonal demand. Cash costs averaged $10.70 per ton sold compared to $9.77 per ton sold in the third quarter. The segment's average cash margin for the quarter was $1.37 per ton.
Looking ahead, Arch expects cash costs of between $10.90 and $11.30 per ton in its PRB segment during 2020, which includes the impact of recently enacted excise tax increases. Given the mild start to winter and currently depressed natural gas prices, the company expects its PRB segment to experience lower-than-ratable volumes and higher-than-ratable costs in the first quarter of 2020.
In the Other Thermal segment, the average cash margin declined to $3.60 per ton in the fourth quarter of 2019 versus $8.36 per ton in the third quarter of 2019, due primarily to a shift in product mix and lower export-related pricing at the West Elk mine.
Arch is guiding to average operating costs of $25.00 to $29.00 per ton for full year 2020, which reflects the sale of Coal-Mac in December 2019. At year-end, the Other Thermal segment had 3.5 million tons committed for delivery in 2020, including 3.1 million tons committed at a fixed price of $33.65 per ton.
Progress at Leer South
During 2019, Arch invested $103 million in the build-out of Leer South, and expects to invest another $220 million in 2020. Total capex for Leer South is projected at between $360 million and $390 million.
"We continue to make excellent progress in developing Leer South, which we consider to be the industry's premier growth project," Lang said. "We are well on track for the commencement of longwall operations at the new mine in the third quarter of 2021. Even at today's weaker assessed High-Vol A metallurgical prices, we would expect Leer South to generate margins of approximately $45 per ton if the longwall were online today."
With the addition of Leer South, Arch expects to expand its High-Vol A output by an incremental 3 million tons; enhance its already advantageous position on the U.S. cost curve; strengthen its coking coal profit margins across a wide range of market conditions; and cement its position as the leading supplier of High-Vol A coking coal globally.
Market Developments
After a significant pullback in the back half of 2019, metallurgical markets have rebounded modestly since the start of the year, although ongoing concerns about the coronavirus and its potential impact on the global economy remain significant, near-term risks. The assessed price of the High-Vol A metallurgical product – which comprises nearly 70 percent of Arch's metallurgical product mix – has increased nearly 10 percent since January 1, and other metallurgical qualities have strengthened as well.
At year-end, Arch had committed to supply 1.8 million tons of its metallurgical products to North American customers in 2020, at a fixed price of approximately $107 per ton. In addition, Arch had committed to move 2.4 million tons of its metallurgical products into the seaborne market, with 2.2 million tons of that total at a market-based pricing structure and 200,000 tons of its lower-quality metallurgical products at a fixed price of approximately $83 per ton.
"We are pleased with the balance we have achieved to date in our 2020 metallurgical sales book," Lang said. "We have built a strong foundation of fixed-price business in North America at advantageous prices given current market conditions, and have complemented that with a solid start to our contracting efforts in seaborne markets, where market-based pricing structures provide us with exposure to potential future strengthening in metallurgical markets," Lang said.
In its thermal segments, Arch is more than 80 percent committed at current volume guidance levels, with 58.1 million tons of PRB coal committed at $12.22 per ton.
Outlook
"Heading into 2020, we are sharply focused on demonstrating continued operational excellence across our entire mine portfolio while advancing our well-defined strategy for long-term value creation and growth," Eaves said. "We are driving forward with our efforts to further reduce the cost structure of our metallurgical segment; enhance our metallurgical portfolio's already significant cash-generating capabilities through the build-out of Leer South; generate significant levels of cash at our low-cost thermal assets; prepare those assets for an increasingly challenging market environment through the completion of the synergistic joint venture with Peabody; and maintain our industry-leading balance sheet strength. In short, we are working aggressively to strengthen our performance across a range of significant operational and financial metrics in our ongoing efforts to maximize long-term value creation for our shareholders."
To read the full press release with financial figures incldued, click here.