Komatsu Opens Giant New Service Center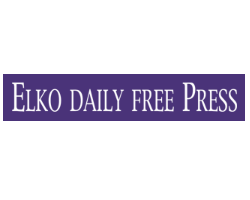 February 8, 2020 - Sixteen months after people lined up with shovels for a groundbreaking, Komatsu Equipment Co. celebrated the completion of its giant new service center in west Elko, Nevada with a grand opening on Friday.
Lots of people from the City of Elko, Elko County and the mining industry went to the service center for a tour of the brand new buildings and the big equipment at the impressive facility.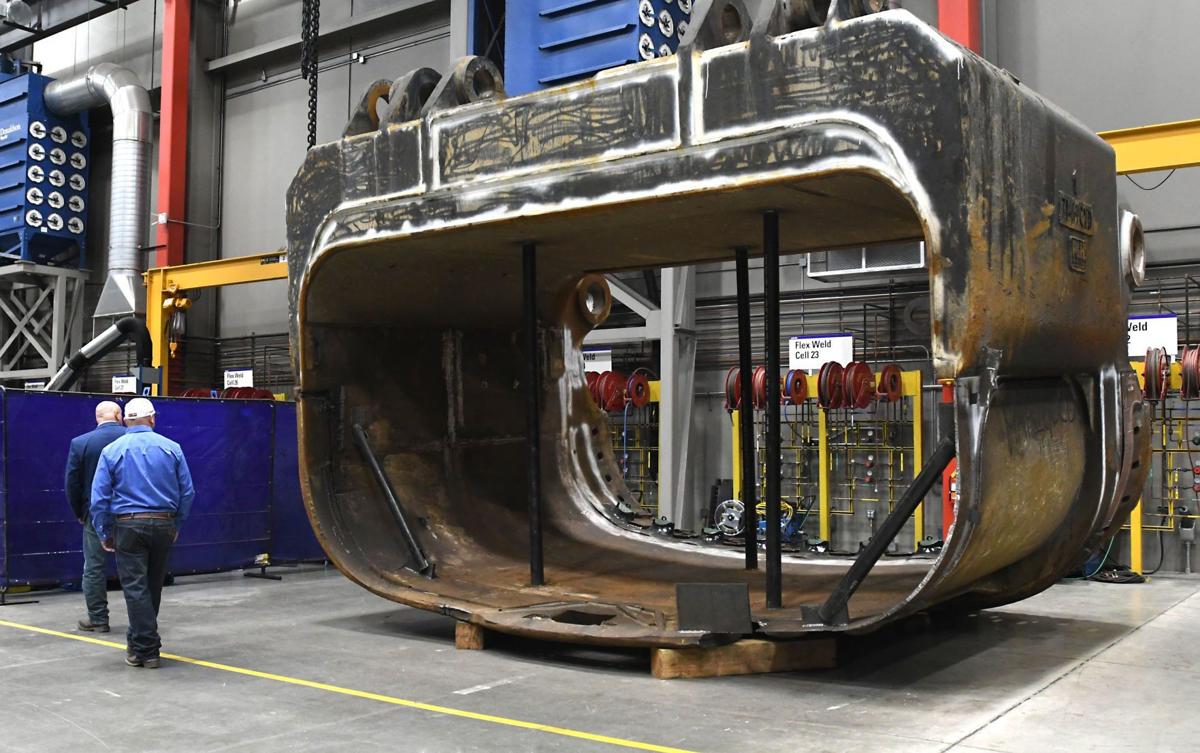 Visitors walk around a relatively "small" scoop or shovel that is being constructed at Komatsu's new 150,000 square foot facility on the west side of town.

Photo: Cynthia Delaney
The new $47 million, 150,000 square foot facility is Komatsu's largest service center in North America.
The service center is "very, very important to the company," Komatsu Equipment Co. President John Pfisterer told the Elko City Council in late October 2018, one week after the groundbreaking.
John Pfisterer, president of Komatsu, welcomes the crowd to the company's new facility in Elko.
When the project was announced, the completion was scheduled for early 2020.
"We're right on track," Komatsu Director of Operations Danny Murtagh said Thursday afternoon as he finished getting everything ready for Friday's grand opening. "Right on schedule, right on budget."


The service center has about 150 employees.
In April 2017 Komatsu completed a $3.7 billion acquisition of Joy Global, and Joy Global was renamed Komatsu Mining Corp. The new service center in Elko combines and expands the operations of the three Joy Global and Komatsu facilities that had been in Elko.
Murtagh said in central Elko there was a construction equipment shop that focused primarily on light duty construction repairs, along with mining repairs in the field, with focus on Komatsu shovels and trucks. On the east side of town there was a Joy Global heavy machine shop. Those two building were leased, and Komatsu is no longer leasing them.
On the west end of town there was a Joy Global shop, and that building has been repurposed as a 60,000 square foot warehouse which is part of the new service center. Komatsu purchased additional land for the service center, so the site now totals 30 acres.
Komatsu plans to build an additional 45,000 square foot warehouse within the next few years, Murtagh said. This will bring the service center to a total of nearly 200,000 square feet.
Murtagh provided an overview of the new service center.
"It's a combined service center that services the construction and mining industries in the repair of mining and construction equipment," Murtagh said. "We dispatch technicians out of this facility for field service repairs of construction equipment. We have a large six-bay construction equipment repair shop as well, where our customers can deliver their equipment for major repairs or things of that nature. And we can handle those in the shop in a controlled, clean environment.



"We also have a heavy fabrication structural shop where we do a lot of heavy structural repair of major mining components. For instance, the big dippers on the shovels and large buckets on mining excavators. In that facility, not only do we do repairs, we also do some manufacturing for our OE (original equipment) products. So our global supply chain relies on this facility for manufacturing large dippers for shovels and also large truck bodies, the big dump bodies on the electric haul trucks. In addition, we do some other manufacturing of smaller structures for our global supply chain, specifically in the P&H equipment line.
"We also have an on-site mechanical repair shop. It focuses on large mining gear boxes, and planetary transmissions and brakes and all of those types of things for our equipment and other manufacturers' equipment.
"And we have a large administrative office, about a 23,000 square foot office that houses all of our sales and general administrative folks."
The facility also has a construction equipment and rental-machine yard.
The combined service center will be doing a lot of work for the northern Nevada market, and will also be doing work for all of western North America.
"We do a lot of work for our Canadian subsidiaries and customers as well as other U.S.-based service centers," Murtagh said.


For the past few years the Elko City Council and the Elko Planning Commission have taken a variety of steps to help make the Komatsu facility possible, including helping to facilitate annexations and right-of-ways. When the project was getting started Reece Keener, who was a council member at the time and is now the mayor, said Newmont Mining Corp. and Barrick Gold Corp. had each donated $200,000 toward the water line extension to the site.
"They understood the importance of developing that area at exit 298" off Interstate 80, Keener said.
Elko City Manager Curtis Calder said design work had begun on a new sewer lift station at the exit, and that infrastructure project will begin when there is some additional development in the area.