Tax Breaks for Coal, Alcohol and Farms Found in Hastily Passed Kentucky Revenue Bill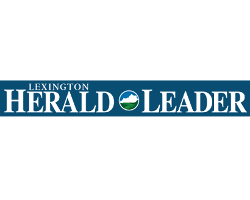 By John Cheves

April 2, 2020 - The Kentucky General Assembly on Wednesday approved a quickly rewritten revenue bill that contains tax breaks for the agriculture, alcohol and coal industries as well as language that will affect solar energy, drunken drivers, newspapers and this year's state elections.

Overall, the Senate's substitute for House Bill 351 — which was presented to lawmakers about 45 minutes before the full Senate voted on it — should raise about $5 million in new state revenue over the next year, said Senate budget committee Chairman Chris McDaniel, R-Taylor Mill.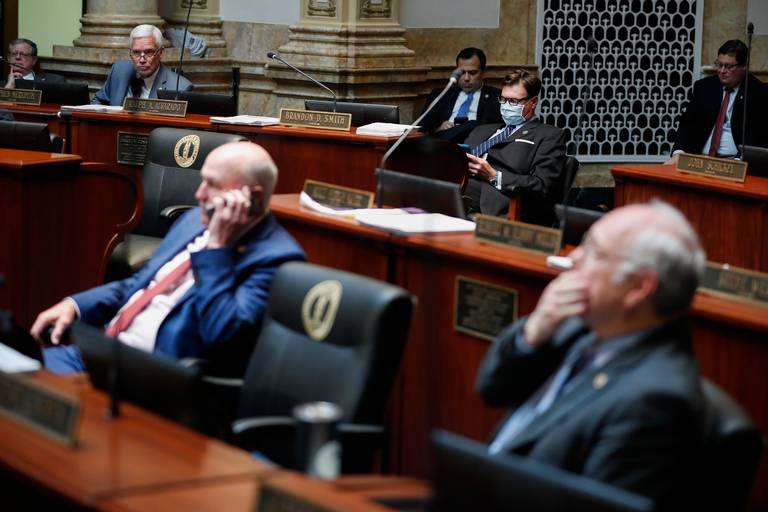 Sen. Brandon Smith, R-Hazard, wears a face mask in an effort to protect himself from COVID-19 during a Kentucky Senate floor session at the state Capitol In Frankfort, Ky., Wednesday, April 1, 2020.

Photo: Alex Slitz aslitz@herald-leader.com

The tax breaks should be more than offset by new taxes in the bill, primarily a tax on vaping products, McDaniel said.

As of Thursday, there was no fiscal note publicly available on the legislature's website to explain the revenue bill's financial impact on the state treasury. Some Democratic lawmakers, who are in the minority in the General Assembly, declined to vote for the bill on Wednesday, saying they were not given enough time to read it.

The legislature also passed a one-year austerity budget Wednesday that essentially keeps state government funded at current levels until June 30, 2021, with flexibility for Gov. Andy Beshear to make spending cuts as necessary.

Among other things, the 244-page revenue bill would:

- Expand an existing property tax exemption currently available to manufacturers to certain distilleries, wineries and breweries for their materials, supplies and industrial tools.

- Expand an existing small business tax credit to beginning farmers who are buying the land and equipment of experienced farmers looking to sell. This credit is capped at $3 million a year.

- Expand an existing biodiesel production tax credit to "renewable chemical production," which is largely aimed at environmentally friendly agricultural products, said state Rep. Suzanne Miles, R-Owensboro. This credit is capped at $10 million a year.

Miles, who has been asking for this tax credit for the last two years, said it could cover waste from bourbon distilling, soy chemicals "and just a wide variety of things. This should open the door for opportunities that can provide us with safer choices in the agriculture industry."

- Create a coal severance and processing tax refund for coal operators who export to markets outside the United States, excluding Mexico and Canada. The coal industry has looked abroad in recent years as U.S. demand for coal has withered, and in particular, to Asia and Europe.

Miles represents part of the Western Kentucky coalfield and said she is wary of reducing the coal severance taxes that help support her local governments.

"But to me, the more important thing is that the mines stay open and the miners keep their jobs," she said. "There is no value to anyone if you can't sell the coal."

- Increase the service fee paid by drunken drivers from $375 to $425. The extra $50 would go to a newly created ignition interlock administration fund.

- Allow local governments to issue financing bonds for solar power facilities. This item has drawn praise from environmental groups, such as the Kentucky Resources Council.

- Allow Beshear, a Democrat, and Republican Secretary of State Michael Adams to change "the manner" in which state elections are held later this year if the novel coronavirus emergency is still in effect.

The May 19 primary already has been postponed to June 23 because of Beshear's executive orders prohibiting Kentuckians from gathering in public, to avoid spreading the coronavirus. Unless the crisis improves, Adams told lawmakers Wednesday, it's possible voting will have to rely heavily on mailed-in absentee ballots rather than people congregating at the polls.

"My hope is to have a normal election on June 23," Adams told the Senate budget committee. "That assumes that we're going to be able to find 16,000 poll workers. And on average, their age now is 65."

- Let local governments in counties of more than 90,000 people publish their legal notices — including ordinances, audits and bid solicitations — on their own websites rather than as an advertisement in the local newspaper.

Beshear has vetoed a House bill that proposed something similar, arguing that it would save local governments relatively little money while making it difficult for the public to find information they need. Also, the governor said, cutting off the advertising revenue would "further harm newspapers."