Practical Fall Protection Guidance for the Mining Industry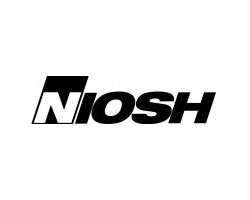 By Mahiyar F. Nasarwanji*, Jonisha P. Pollard, Brianna M. Eiter, Jonathan K. Hrica, and Lydia M. Kocher
National Institute for Occupational Safety and Health, 626 Cochran Mill Rd, Pittsburgh, PA 15236.
*: Corresponding author (MNasarwanji@cdc.gov)
May 20, 2020 - Falls pose a significant burden to the mining industry. Over a 10-year period, fifty-five mine workers–11% of all fatalities at surface coal and metal/nonmetal mines–were fatally injured from falls to the lower level.1,2 Analysis by researchers at NIOSH shows that one-third of these fatalities (33%) could have been prevented if a personal fall arrest system had been used appropriately.1,2
When considering non-fatal incidents reported to the Mine Safety and Health Administration (MSHA) at surface stone, sand, and gravel mines, 490 injuries per year were related to slips and falls, with 27% of these associated with to falls to lower levels.3 These falls to lower level injuries resulted in an estimated total cost of $1.14 million per year.3 In addition, an average of 222 assessed violations were issued by MSHA to surface stone, sand, and gravel mines related to safety belts and lines over a five-year period, accounting for $372,747 per year in fines.3 Finally, an average of 111 imminent danger orders related to slips or falls of a person were issues yearly by MSHA for not using a personal fall arrest system or using it incorrectly over an eight-year period4.
As these data show, from both a safety and economic standpoint, appropriate use of a personal fall arrest system, or fall protection, is essential to help prevent falls to the lower level or falls from elevated surfaces. It is important that all mine workers know how to safely use their fall protection and when to do so. Mine workers should be trained on how to minimize hazards when working at heights and the proper use of fall protection. In addition, mine management should ensure that appropriate anchor points are provided. Finally, as a reminder and to reinforce training, there is a simple way to remember the three key components of the personal fall protection system and three easy steps to appropriately use fall protection.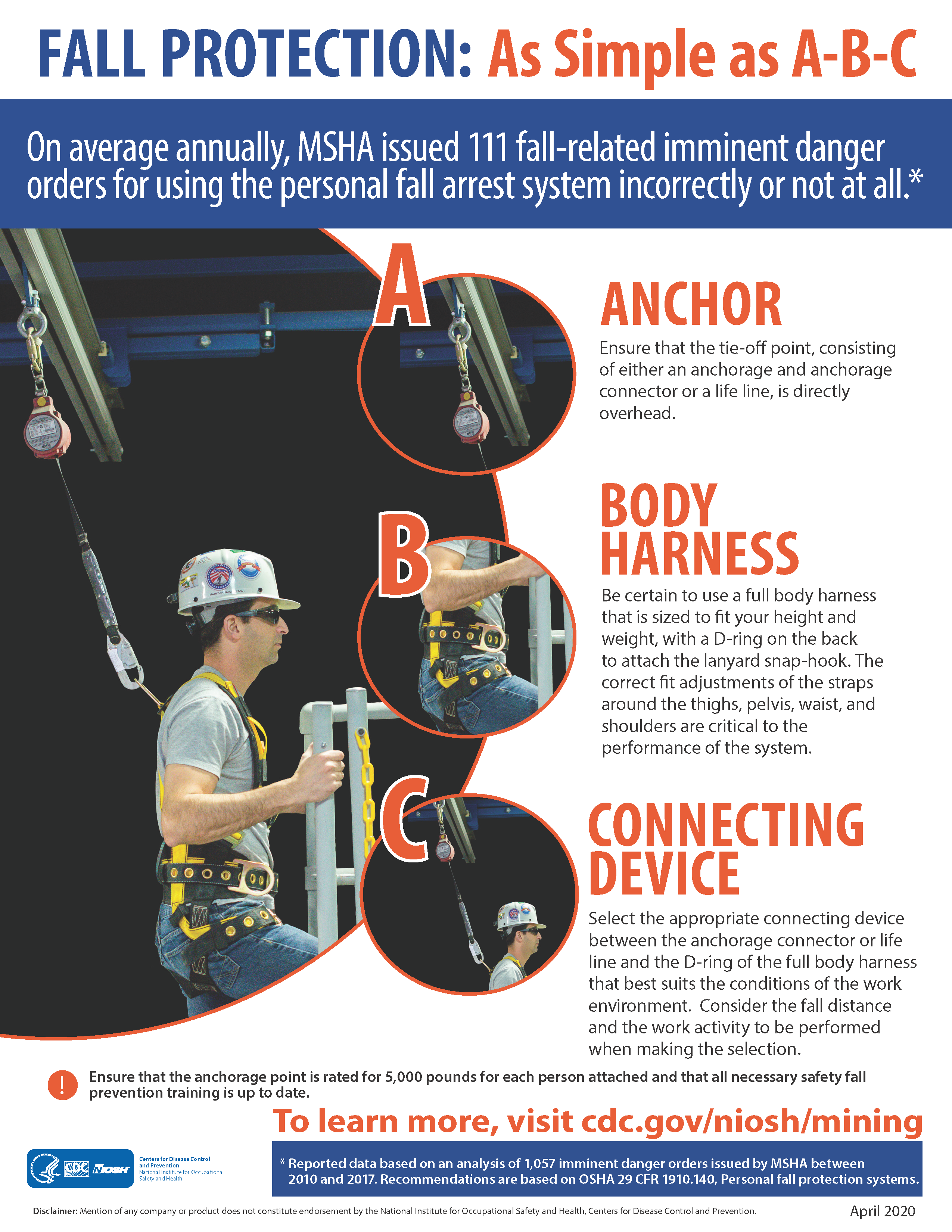 As Simple as A-B-C
A. Anchor: Ensure that the tie-off point, consisting of either an anchorage and anchorage connector or a lifeline, is directly overhead.
B. Body Harness: Be certain to use a full body harness that is sized to fit your height and weight, with a D-ring on the back to attach the lanyard snap-hook. The correct fit adjustments of the straps around the thighs, pelvis, waist, and shoulders are critical to the performance of the system.
C. Connecting Device: Select the appropriate connecting device between the anchorage connector or lifeline and the D-ring of the full body harness that best suits the conditions of the work environment. Consider the fall distance and the work activity to be performed when making the selection.
As Easy as 1-2-3
1. Select and Inspect: Select a stable anchorage and anchorage connector with the required strength, a full body harness that fits your body, and a lanyard type and length based on the work application and fall distance. Inspect your harness and lanyard for cuts, tears, dirt, grease, or burn marks. Remove all damaged items from service.
2. Put On/Don: Put on your full body harness and make the necessary adjustments for a correct fit. A proper fit of the straps around the thighs, pelvis, waist, and shoulders is critical to the performance of the system.
3. Tie Off: Attach the lanyard to the full body harness D-ring first and then connect the snap-hook of the lanyard to the anchorage connector or lifeline.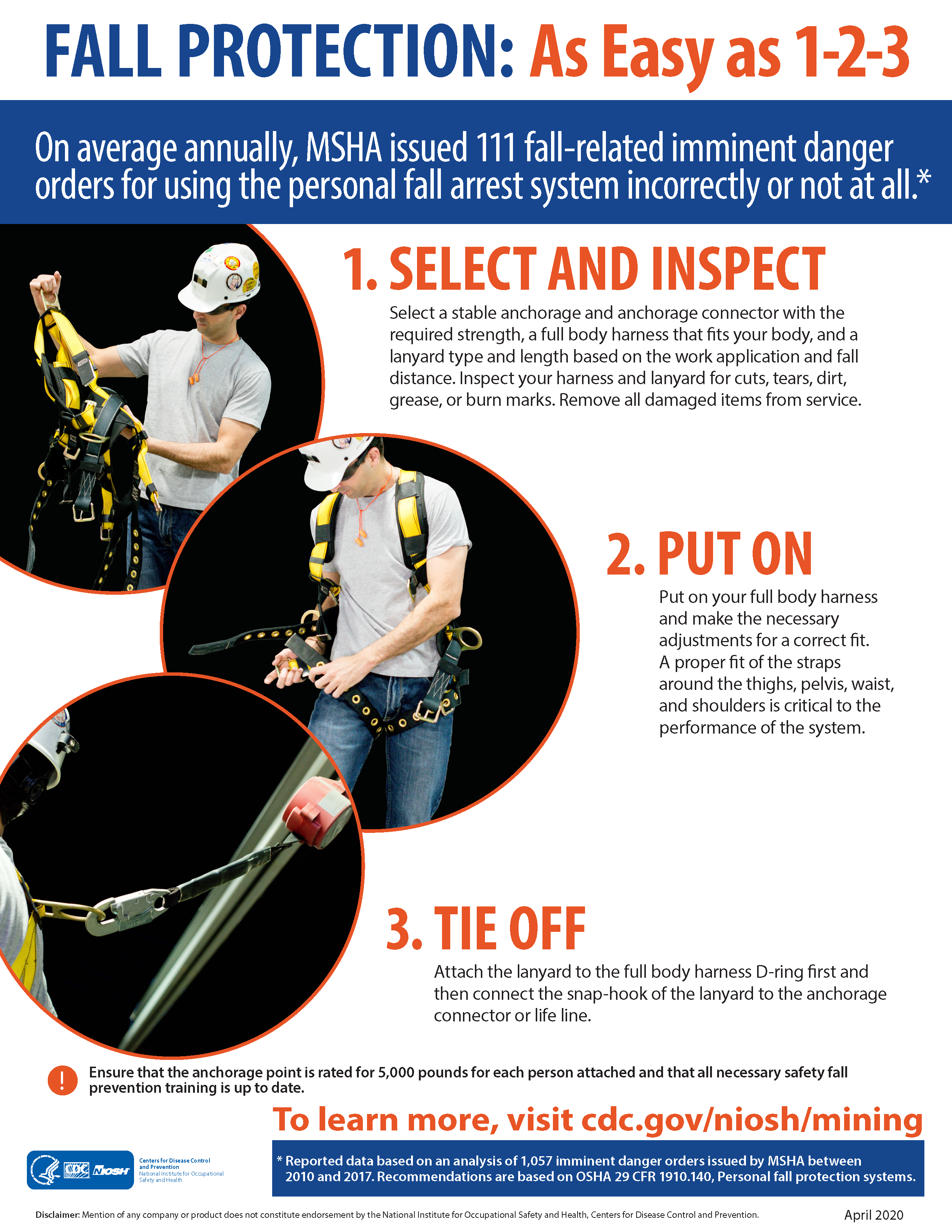 For further information, please visit "Slip, Trip, and Fall Prevention for Mining" available at https://www.cdc.gov/niosh/mining/content/STFprevention.html
Disclaimer: The findings and conclusion in this work are those of the authors and do not necessarily represent the official position of the National Institute for Occupational Safety and Health, Centers for Disease Control and Prevention. Mention of any company or product does not constitute endorsement by NIOSH.
Referenced Sources:
1 Nasarwanji, M. F. (2016). Contributing factors to slip, trip, and fall fatalities at surface coal and metal/nonmetal mines. In Proceedings of the Human Factors and Ergonomics Society Annual Meeting (Vol. 60, No. 1, pp. 1666-1670). Sage CA: Los Angeles, CA: Sage Publications.
2 Nasarwanji, M. (2016). Causes of Fall Fatalities at Surface Mines. Min Eng., December 2016, 68(12) web exclusive.
3 Nasarwanji, M. F., & Sun, K. (2019). Burden associated with nonfatal slip and fall injuries in the surface stone, sand, and gravel mining industry. Safety science, 120, 625-635.
4 Hrica, J. K., Eiter, B. M., Pollard, J. P., Kocher, L. M., & Nasarwanji, M. (2020). Analysis of Fall-Related Imminent Danger Orders in the Metal/Nonmetal Mining Sector. Mining, Metallurgy & Exploration, 37(2), 619-630.