Is the US Coal Industry Salvageable or Is It Already Too Late?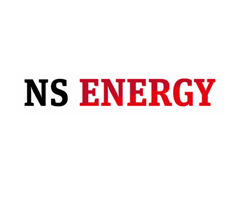 By James Murray
May 23, 2020 - Market forces have contributed to both coal's loss of supremacy and the upturn in fortunes for renewables and natural gas.

Solar costs have fallen by more than 80% since 2010, while the cost of building large wind farms has dropped by more than 40% — and the price of natural gas has fallen to historic lows because of the fracking boom, according to various US energy agencies.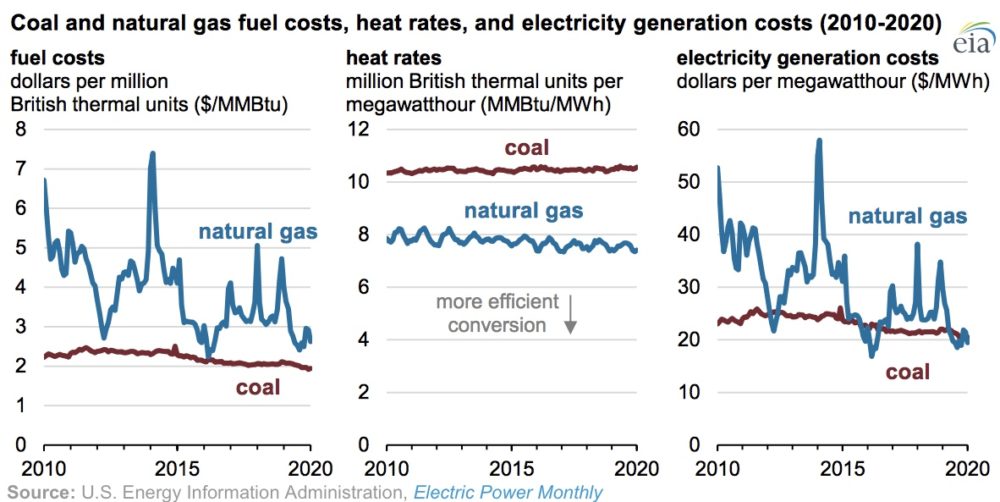 The price of natural gas has fallen to historic lows because of the fracking boom.
Credit: EIA


The changing energy mix is illustrated by the latest data for the EIA as it predicts renewables to overtake coal for the first time at 20% and 19% shares respectively.

It marks a huge decline from the 39% contribution of coal just six years ago — the same year the final coal-fired power plant came online in Jamestown, North Dakota.

Dams, wind farms and solar panels have already generated more electricity than coal on 90 separate days this year — easily eclipsing the 2019 record of 38 days over the entire 12 months.

And with the EIA expecting a 5% drop in electricity production due to falling demand stemming from businesses closing and factories scaling back amid Covid-19 lockdowns, the need for coal and its high operating costs recedes even further.

Alongside the projections, IEEFA data shows a very tangible decline already this year for the fossil fuel.

In January, coal made up 19.9% of the market share for electric power generation, with renewables sitting at 17.6%.

A month later, coal had dropped to 18.3% and renewables rose to 19.7%, while preliminary estimates for March noted a 17.3% share for the mineral and 19.9% for clean energy.

Although April is typically a low generation month for coal because plants are taken offline for maintenance, compared to it being a relatively strong month for renewables, the figures remain damning for the coal industry.

Data recorded up until 24 April noted a 15.5% share for coal, while renewables came in at 21.7%.

IEEFA analyst Wamsted says: "15.5% is probably a record-breaking low for coal — it's certainly a record-breaking low in the 30 years that I've been following the industry.

"It's also a record-breaking percentage for renewables. These trends have been going in opposite directions for the past four months, but they have also clearly been going in opposite directions over the past five to 10 years as well."

But this decline isn't just being felt across the US, as global demand for the fuel in 2020 is set to experience the largest drop since the Second World War at 8%, while coal-fired generation is expected to fall by more than 10% this year, according to the IEA.

Do Exports Offer Any Chance of Redemption for the US Coal Industry?

In 2019, about 14% of total US coal production (6% of thermal coal and 8% of metallurgical coal) was exported to at least 50 countries, according to the EIA.

And it's the export market that may provide a glimmer of hope for the mining sector, with Asia the most likely destination.

While the rest of the world reduced its coal capacity by 8GW in the 18 months to June 2019, China increased its stock by 42.9GW, according to the NGO Global Energy Monitor – which predicts the gulf between the Asian superpower and other countries will only widen.

Meanwhile, coal-powered electricity has risen in India from 68% in 1992 to 75% in 2015.

The neighbouring South-east Asia is one of the few regions where the share of coal in the power mix increased in the IEA's most recent figures for 2018 as new plants continue to come online.

The NMA's Burke says the industry is "optimistic about the East Asian market", where there are "both new coal-based power plants and industrial growth supporting future demand".

"The Asian coal fleet is young — the average plant is just 11 years old — and new generating capacity is being added at a rapid clip," she adds.

"Japan, for example, is adding 22 new plants in the next five years. Coal is a reliable, inexpensive and secure fuel that continues to underpin energy security and industrialisation in developing as well as developed economies.

"An additional factor in our favour is that bulk carrier freight rates are coming down due to low petroleum prices. It makes exporting coal less expensive."

But exports, already accounting for a relatively small proportion of production, are expected to take a hit this year.

Data recorded by S&P Global Market Intelligence shows that up until 22 February, the amount of coal exported by the top five US ports declined by 69% year on year.

Change in President 'Bodes Ill for Coal'

If the outlook for coal didn't look particularly bright under Trump, the picture could be even gloomier should Democratic candidate Joe Biden win the 2020 election.

Although questions remain about his climate change credentials, the 77-year-old is a keen environmentalist compared to the current incumbent of the Oval Office.

He has pledged to improve the carbon performance of the US, which has already reported emissions falling by 15% since 2005 due in part to coal's decline. The EIA predicts they will fall 11% this year alone, the biggest drop in 70 years.

During a campaign event in December 2019, he suggested coal miners could simply learn to code to transition to "jobs of the future", Newsweek reported.

Biden, who served as vice-president under Obama, claimed that "anybody who can go down 300 to 3,000 feet in a mine, sure in hell can learn to programme as well, but we don't think of it that way".

At another campaign event the same week, he told the audience about his plans to eliminate fossil fuels, including coal.

He added that he would hold executives accountable for using fossil fuels and would "put them in jail" if they didn't comply.

But for voters praying for Trump to earn a second term in office, IEEFA data analyst Seth Feaster warns a lot of his policy initiatives to try and support the coal industry have "really had very little to no effect".

"Coal is really falling fast and most of the policy initiatives didn't really work out and were not implemented well – and they didn't really help the coal industry much at all," he adds.

"It bodes rather ill for the coal industry if there is a change in party in the White House come the fall.

"Because if coal can't survive under probably one of the most coal-friendly administrations in a long time, then I'm not sure it's going to do that well if the party changes."

Trump and Coal: A Pointless War?

Back on the EPA stage with the workers alongside him and Murray in the front row, Trump makes a big promise to the mining industry.

"The miners told me about the attacks on their jobs and their livelihoods," he says.

"They told me about the efforts to shut down their mines, their communities and their very way of life. I made them this promise. We will put our miners back to work.

"My administration is putting an end to the war on coal."

Unfortunately for the president and coal miners, it could be the battle had been lost a long time ago.