Is Coal Still a Valuable Source of Energy?
By James Murray
May 23, 2020 - Due to its "dirty" status, many countries in the Organization for Economic Co-operation and Development (OECD) have already started to distance themselves from coal — the world reduced its capacity by 8GW in the 18 months to June 2019, according to the NGO Global Energy Monitor.

Yet it still made up 38.5% of the global energy mix in 2018, according to the International Energy Agency (IEA).

That figure is largely due to consumption levels in China and India – the two most populated countries in the world.

Janet Gellici, CEO of the National Coal Council (NCC), a federal advisory committee to the US Department of Energy, believes coal is still valuable because "power grids benefit from reliable and resilient grids".

She adds: "Coal power plants pose numerous repeatability and reproducibility (R&R) attributes that help stabilize the grid and power pricing, including fuel security, resource availability, on-site fuel supply, price stability and dispatchability, while emerging international economies need abundant, affordable resources."

The NCC believes these R&R attributes need to be "assessed and valued" in the country's energy portfolio and has recommended a four-step approach to the Department of Energy – to assess the value of the coal fleet; support efforts to retain continued operation of the existing coal fleet; reform the regulatory environment; and renew investment in coal generation.

Ashley Burke, senior vice-president of communications at the National Mining Association (NMA), the US's mining trade organisation, says several states "rely on coal for the majority of their electricity generation" and coal generation has "played an outsized role in propping up the grid and providing reliability during extreme weather".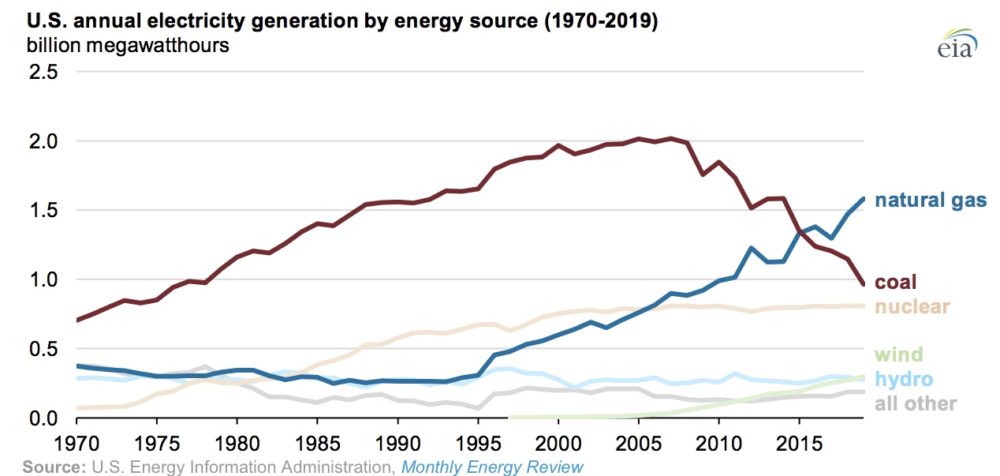 Annual electricity generation from coal has dropped significantly over the past 15 years
Credit: EIA


Across the US, 687 million short tonnes of coal were consumed in 2018, according to EIA figures, accounting for 13% of the country's total energy consumption.

The overwhelming purpose of coal production (92.6%) was for electric power generation — with the remainder used by industry, including steel-making, and transport.

"The fuel security and dispatchability inherent with the coal fleet can't be easily replaced," she adds.

"If you look at the states with higher percentages of coal generation, it shows that states with a diverse mix of fuels have some of the lowest prices per kilowatt-hour for retail electricity.

"When the economy is doing well, affordable energy may matter less to people.

"But throughout the coronavirus crisis, when Americans are losing jobs and businesses are struggling with basic cash flow — and even after, as the economy struggles to recover — keeping electricity bills low will be even more important."

Burke says that aside from electricity generation, metallurgical coal is "key to steel production", which is "critical to manufacturing and so many other industries".

"One thing that has been exposed through the coronavirus crisis is the need to secure our domestic supply chains," she adds.

"US coal is here and readily available to support a variety of industries."