Minerals Permitting Legislation Recognizes Mining's Essential Role as the Front End of the Nation's Critical Supply Chains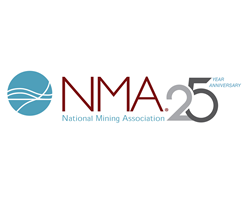 May 28, 2020 - The following statement was released today by National Mining Association (NMA) President and CEO Rich Nolan praising the introduction of the "American Critical Mineral Exploration and Innovation Act," which includes modernization of the federal permitting systems to improve access to minerals critical for the nation's medical, energy, defense and manufacturing supply chains:
"The COVID-19 pandemic has revealed the perils of our alarming minerals import dependence. Our global peers accomplish in two to three years what takes a decade to permit in the U.S., deepening our reliance on foreign imports at a time when doing so holds the greatest risk. Minerals are the front end of the nation's industrial supply chains; with resources exceeding more than $6.2 trillion, we need not look to geopolitical rivals to source them. In fact, encouraging greater use of our domestic resources will not only strengthen our national and economic security, but will provide the foundation for economic recovery, supporting and expanding the 1.2 million American jobs that come from U.S. hardrock mining.
"Congressmen Gosar and Waltz's leadership on this important bill – coupled with the efforts of all the cosponsors and Leader McCarthy to prioritize these issues – is a timely and essential step forward to help rebuild critical domestic supply chains."