Canada: Davis Day in Cape Breton Marked With Small Services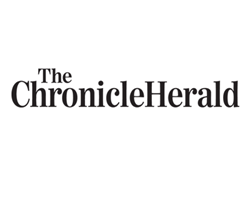 June 12, 2020 - In Canada, Davis Day was acknowledged on Thursday, just without the crowds.

Due to the COVID-19 pandemic, the ceremonies were cancelled. However, the Cape Breton Regional Municipality took the time to remember quietly.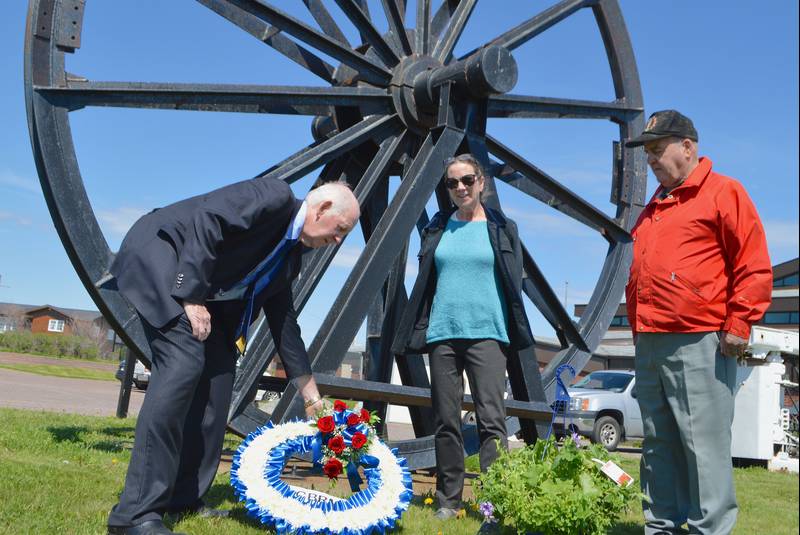 Cape Breton Regional Municipality District 9 Coun. George MacDonald, left, lays a wreath at the Miners' Memorial Park in Glace Bay, accompanied by Mary Pat Mombourquette, executive director of the Cape Breton Miners' Museum, and Dan Jimmy White of Glace Bay, a 28-year former miner, to commemorate William Davis Day. The annual ceremonies were cancelled this year due to the COVID-19 pandemic.

Photo: Sharon Montgomery-Dupe, Cape Breton Post


During the June 9 council meeting, Thursday was proclaimed to be William Davis Miners Memorial Day.

However, Mayor Cecil Clarke said they wanted to do something more significant.

"While the annual Davis Day service was cancelled this year because of COVID-19, I thought it important we still pay tribute to the miners who lost their lives on the job and remember the sacrifice made by William Davis in 1925," he said in an emailed statement.

Clarke read the proclamation at the miners' monument in Sydney Mines, where he laid a wreath. Councillors Darren Bruckschwaiger, George MacDonald, Amanda McDougall and Clarence Prince each laid a wreath at miners' monuments in the various former coal mining communities.

Bobby Burchell, retired Canadian international auditor/teller with the United Mine Workers of America, placed one at the Miners' Memorial Monument in New Waterford

Davis Day is commemorated on June 11 in recognition of New Waterford coal miner William Davis, a father to nine children with another on the way, who was shot during a confrontation between striking miners and company police during a 1925 strike.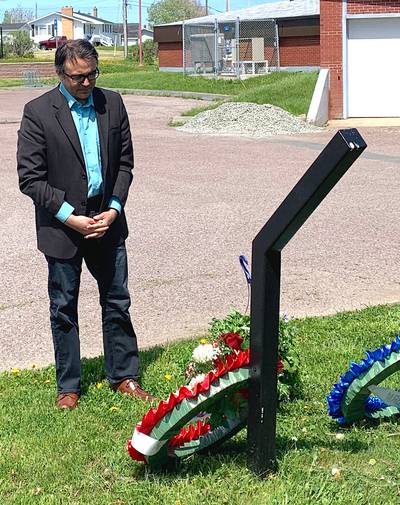 Cape Breton Canso MP Mike Kelloway has a few minutes of silence after laying a wreath to commemorate Davis Day in the Miners' Memorial Park at the Cape Breton Miners' Museum in Glace Bay, Thursday.

Photo Contributed


The date is also known as William Davis Miners' Memorial Day throughout the municipality, in honour of miners who were killed on the job across the province.

Mary Pat Mombourquette, executive director of the Cape Breton Miners' Museum, invited the public to stop by Miners' Memorial Park to commemorate Davis Day in their own way.

Mombourquette said people drifted in and out all day.

"That's really nice that people are remembering this is William Davis Day, even if we can't have a ceremony," she said.

Former coal miner Dan Jimmy White of Glace Bay placed flowers at the museum's Miners' Memorial Park. White's father supported 10 kids working in the coal mines.

"I worked in the coal mines 28 years and my father Dan White, 38 years," he said.

CBRM District 9 Coun. George MacDonald also laid a wreath at the museum's park, commenting his father Charles MacDonald and grandfather Mattie MacDonald, both coal miners.

MacDonald said it's important to remember the miners who died in the mines over the years.

"It's a special day in Cape Breton," he said. "We've always been a coal mining community so it's only fitting we spend this day every year to remember the miners who have passed away."

Cape Breton-Canso MP Mike Kelloway also laid his MP wreath at the miners' memorial park in Glace Bay, commenting Davis Day is important to him and his family. His father, Mick Kelloway, worked in the mines 35 years including as a mine rescue supervisor the last 10, and grandfather Billy Kelloway died in the No. 20 colliery where he was employed as a supervisor.

"I just had a couple moments of silence thinking of the day, thinking of my grandfather but also all the coal mining families," he said. "The families of coal miners actually helped build this island and provided so much to it."