Canada: Blood on Coal Tartan Honors Springhill's Coal Mining Heritage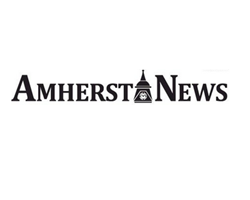 June 26, 2020 - In Canada, it has been more than 60 years since large scale coal mining ended in Springhill, Nova Scotia but its heritage is still a big part of the community's soul.

Springhill native Roberta Bell was sleeping last June when the inspiration came to her to develop a coal miner's tartan in honor of all those who went deep into the earth, and paid a heavy price, to dig coal and fuel the economy of Nova Scotia.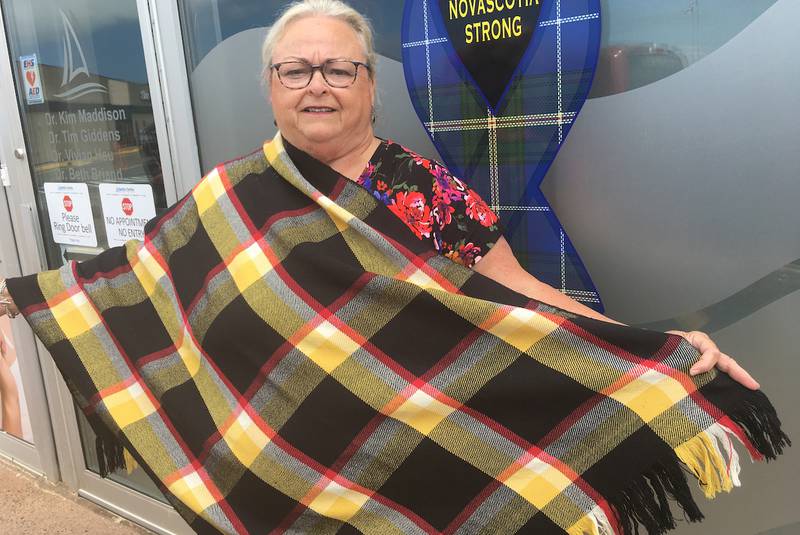 Roberta Bell displays the coal miner's tartan, Blood on the Coal, that has been recognized by the Scottish Registrar of Tartans in Edinburgh, Scotland.

Photo by Darrell Cole


Bell has unveiled Blood on the Coal, a commemorative tartan that celebrates the coal mining heritage of Springhill.

"It all came to me in a dream," said Bell, who presented the finished tartan during recent Davis Day ceremonies that this year were done via YouTube. "The colors, what they meant, and the colours to use. It was like someone was working through me."

When she awoke, she sketched the tartan she saw in her dream. She wondered why no one had ever developed a tartan for miners.

The tartan has been recognized by the Scottish Registrar of Tartans in Edinburgh, Scotland, being officially registered last November.

"I love it," she said of the finished product. "The lady in Cape Breton, who wove it, said she could see the miner's lamp in the yellow."

Each of the colors is relevant to mining. Black is for the coal or the dark of the mine, the yellow is for the miner's lamp because it leads him forward and brings him home, the white is for life and hope and the red is for the blood on the coal of the miners who lost their lives or were injured working the slopes, as well as the sweat and tears from the back-breaking work removing the coal from the depths of the earth.

Since June 11 she has received a lot of inquiries about the tartan and has purchased a loom of her own so she can make copies for others. She is hoping to work with the miner's museum in Springhill to sell replicas of the tartan as a fundraiser to help preserve the community's mining history.

Bell said mining was a big part of her heritage. It's a big part of Springhill's background.

"Our little town was created around the coal mines. That means the banker, the store owner, the butcher were all a result of the mine," she said.

Now that coal mining is a memory, Bell said it's important to remember those men and boys who went into the mines every day as well as the women who endured the hardship of a miner's life to provide for their families.

She was five years old when the explosion killed 39 miners in November 1956 and she was seven when 74 were killed in the bump in October 1958.

"I knew something big had happened, but didn't know what had taken place," Bell said of the disasters. "I was too young to know what happened or how our lives were going to change."

Her mother had just retired from nursing and went back to work after the disaster while her father lost his job.

"Many of my friends on the lane lost much more, their fathers," she said. "Everyone was affected."

Bell's father worked as a locomotive engineer taking coal from the mines in Springhill to Parrsboro and other locations. Her grandfather was a supervisor of the junction at the bottom of Queen Street while her mother's father was a miner and seven of her brothers were miners who worked in Westville and Cape Breton.

She said Springhill's courage and grit are a result of its association with the coal mines and the miners who embraced the dangerous work. Her sense of pride has been developed by her appreciation for Springhill's mining heritage.

"Our characters are moulded by the things around us," she said. "I believe that is still the story of Springhill because it's still there. I want to remember it and for others to know where we came from."