Black Diamond's Coal Mines and Coal Cars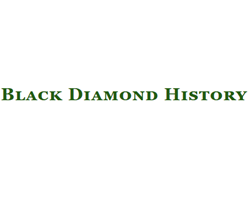 September 9, 2020 - Black Diamond is a peculiar name for a town. Newcomers and perhaps a few old timers seldom consider that black diamonds once referred to those dark and shiny chunks of coal which led to the town's formation.
There are just a few Black Diamonds in the world including one each in Alabama, Florida, Alberta Canada, and a collection of coal mining communities in the Appalachia region of southeast Ohio who've banded together as the Little Cities of Black Diamonds.
Ours was named for the Black Diamond Coal Mining Company of Nortonville, California, whose investments in the Washington Territory led to the town's founding in 1882.
With the arrival of the Columbia & Puget Sound Railroad (C&PS) in 1884, Black Diamond grew rapidly and soon became the biggest coal producer in King County. Over the decades it was second only to Roslyn in Washington state. Mines opened in steady succession as follows:
Mine #14 – This was Black Diamond's first, located just east of SR 169 and due south of city hall, near the present location of the city shops. It was named for the section number of the land where it was located: Section 14, Township 21 North, Range 6 East.

Mine #2 – Located on Lawson Street adjacent to the Grace Road Church (formerly Black Diamond Presbyterian). Since it was the second mine in town it became known as Number 2. Unlike most of Black Diamond's mines, this one was on the No. 12 bed sometimes called the Fulton seam.

Mine #12 – Called Cornwall's mine, it was located just east of town along an extension of the C&PS railroad which now approximates the route of the Green River Gorge Road. Like Mine #14, it too was named after Section 12 of the same township and range. It's located south of Lake 12, named not surprisingly for the same section.

Franklin #7 – Though originally opened by the Oregon Improvement Co. as part of its Franklin operations, this mine was served by rail tracks passing through town so in many respects it's associated with Black Diamond. It too was named for a section—seven. Pacific Coast Coal purchased all of Franklin including this mine in 1896, three years after it opened. Its portal was located about 1,000 feet east of the Dept. of Fisheries boat launch on Lake 12. A large coal slag pile near a gated access south of the Green River Gorge Road marks its location.

Lawson – Was named for Eugene Lawson who founded both a mine and village which bore his name. The mine was located just past the terminus of Botts Drive, while the collection of miner's homes were on the hillside to the east of Botts Drive. In 1898, Lawson sold his mine to Pacific Coast Coal Co. and six years later helped broker the deal by which the Black Diamond Coal Mining Co. sold their mines and townsite holdings to Pacific Coast Company.

Morgan Slope or Mine #11 – Was named in honor of Morgan Morgans, the general superintendent of the Black Diamond Coal Mining Co. It later became known as Mine #11, for Section 11. Morgan Slope/Mine #11 eventually became Black Diamond's longest lasting (1896–1927), most successful (producing nearly 7 million tons), and at one time the deepest underground coal mine in the U.S. (nearly 2,000 feet below the surface).

New #12 – Was also located along the Green River Gorge Road about half way between Botts Drive and Lake 12. A coal slag pile is still readily visible adjacent to the road.

"B" or Skunk Cabbage – Was in fact the B Slope to Mine #11 and located on the upper bench of McKay seam. he McKay is credited for the success of the most of the large producing mines in Ravendale, Franklin, and Black Diamond. The "B" mine was not very productive and closed not long after opening in 1912.

Old Lawson – For three years in the mid-1930s, Bill Hann, a superintendent for Pacific Coast Coal, pulled the remaining pillars from the Old Lawson mine, which had closed 25 years earlier following a terrible explosion which claimed 16 miner's lives.

Lower Diamond or McKay – William Strain operated several mines in the 1930s and 1940s, many on land leased from Pacific Coast Coal. This Strain mine was a reestablishment of the Franklin #7 mine.

Ginder Lake – This was a short-lived operation by Bill Strain located on the east shore of Ginder Lake. The mine operated from 1938 to 1941, and following its closure Ginder Lake collapsed into its abandoned workings but soon refilled with water.

Upper Diamond – This third Strain mine of the same era was located on the Black Diamond-Ravensdale Road about ¼-mile northeast of SR 169. It also only produced coal in 1941. A small coal slag pile is located west of the road adjacent to Ginder Creek.

Black Diamond – After the start of World War II, Pacific Coast Coal once again mined coal in conjunction with the old #7 mine. They called their operation the Black Diamond mine, even though it was most closely associated with the former Franklin #7. It closed in 1946.
Underground and surface operations continued on nearby coalseams through the 1950s and 1960s, but as explained below those underground and surface mines were considered to be more closely associated with Franklin so are not a part of this Black Diamond list.
Note regarding mining districts: The above list attempts to capture coal mines primarily associated with Black Diamond. Yet, it's sometimes difficult to decide where a mine should be classified. The same McKay coal seam begins in Ravensdale, runs south through Black Diamond, then east to Franklin, and ends in Cumberland.
The division between Black Diamond and Franklin is even more ambiguous, as mines operated on several slopes of what's commonly called Franklin Hill (called Lawson Hill on its west slope). For preparation of this list, mines that drain towards the Green River were considered Franklin, while the various #7 mines located south of Lake 12 were classified as Black Diamond.
With the 1946 closure of the Franklin #7, underground mining in Black Diamond essentially ended, though it continued in nearby Ravensdale, Franklin, and Kummer. Still a few one-man operations in town by local entrepreneurs like Dave Evans, Billy Casper, Tom Maks, and Louie Draghi persevered. Some of these tiny operations, which produced only a few hundred tons per year, continued into the late 1960s. Also, the wash plant (aka preparation plant) located at the site of the historic Mine #11 continued operating through 1990.
Surface mining returned to the east edge of city limits in 1982 when Palmer Coking Coal opened their McKay-Section 12 mine. That mining was completed in 1986 and the fully reclaimed site won a reclamation award from the state. It was located east of Botts Drive and south of the Green River Gorge Road.
A new Pacific Coast Coal Co., completely different from historic company except in name, opened the John Henry No. 1 surface mine in 1986 with coal processing at the Mine #11 wash plant. Significant levels of mining continued until 1997 when a landslide in this open pit mine crippled operations. The John Henry site is currently engaged in reclamation activities. This mine occupies property located south of the Green River Gorge Road and west of Lake 12.
Following Black Diamond's incorporation in 1959, community leaders hoped to instill civic pride by highlighting the town's coal mining roots. In early 1962, a group of volunteers supported by the Lions Club, created the wooden coal car monument located at the intersection of Highway 169 and Roberts Drive on land owned by Palmer Coking Coal Company (Palmer). Most of the volunteers were once coal miners.
The featured cart was donated by the Ed Johnson Coal Company and painted white with black lettering. That original effort was headed by Jules Dal Santo. Others who helped included Archie Eltz, Gomer Evans, Darrel McCloud, Louis Zumek, and Frank Zumek.
On May 30, 1962, the coal car located on the triangle-shaped property was dedicated. Shown kneeling from left are: Keith Timm Sr., James Vernarelli, Howard Botts, Ernest Richardson, George Savicke, Roy Darby, and Ted Barner. Standing from left are: Walter Mislenski, John Birchall, Mike Sogura, Domenico Geminiani, Fred L. Roberts, Tom Wieltschnig, Joe Bertelli, Joe Dal Santo Sr. , Tony Signani, R.W. Boyovich, Frank Costi, and Henry Hawthorne. This photo appeared on the front page of the Enumclaw Courier-Herald.
In 1975, Palmer donated the parcel where the coal car had been placed to the City of Black Diamond. The site was surveyed by Louie Zumek and intended for a park and picnic area. On Zumek's survey map it's called the Miner's Memorial site.
On one occasion that coal car was completely destroyed by a wayward automobile, yet restored by Gerald Gauthier Sr. The wooden coal car appearing in the nearby April 1977 photo may be Gauthier's restoration. At another point, the coal car colors were reversed as seen in the October 1982 photo of that same wooden mine car filled with lumps of coal. That photo was taken just after the 100th anniversary marking Black Diamond's centennial.
However in May 1990, a trailer pulled by an asphalt truck smashed into the coal car. Historical society members including Ted Barner, Donald Botts, Bob Burdick, Bob Eaton, Martin Moore, Al Shay, and Carl Steiert rebuilt the splintered wreck from scratch using treated lumber so it would last longer. A wheeler loader from Palmer moved the car from the museum and positioned it back in place.
Traditionally, large chunks called lump coal were placed in the cart. But so many were stolen by treasure-seekers and those heating with coal, they were later replaced by smaller pieces called stoker coal.
In 2002, Dan Dal Santo, the city's utilities supervisor and nephew to Jules Dal Santo, spearheaded efforts to install four more coal cars one at each of the four main road entrances into the city:
At the north city limits on SR 169.

At the south city limits on SR 169.

At the intersection of S.E. 288th St. and 216th Ave. S.E., 1,000 feet north of the Lake Sawyer Store.

On Roberts Drive near the Ten Trails development (note: this coal car has been temporarily displaced by Goodfellow Bros. during sidewalk improvements along Roberts Drive. The city is still trying to determine where it should be relocated.)
The iconic coal car at the Miner's Memorial site on SR 169 may once again need to be moved as traffic improvement plans call for a new roundabout to replace the awkward triangular intersection.
Whether the treasured coal car is placed in the middle of the future roundabout (though State rules may disfavor such distractions) or on adjacent property set aside for stormwater treatment and historical interpretation is still to be decided.
What's not in dispute are the historical roots of the town carved out of the wilderness which grew into a city that's still prides itself as "Black Diamond."