Traffic Rolling on New Nine-Mile Section of Coalfields Expressway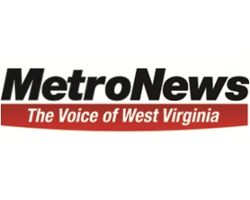 By Jeff Jenkins

October 2, 2020 - Wyoming County, West Virginia now has its first four-lane highway with Thursday's opening of a nine-mile stretch of the Coalfields Expressway.

Gov. Jim Justice was on hand for the ribbon cutting ceremony held on the Mullens end of the project. The stretch, designated as Route 121, connects Slab Fork in Raleigh County to Mullens in Wyoming County.

"The other piece (of the highway) was finished 14 years ago and set there and set there and set there," state Transportation Secretary Byrd White said.

The new section was funded through Justice's Roads to Prosperity program. It cost $33.5 million to build the nine miles.

"Do you realize you are in Wyoming County right now on a four-lane highway?" Coalfields Expressway Authority Chairman Mike Goode told the crowd. "Hey folks this is big."


Goode predicted the ultimate completion of the highway, which will link to U.S. Route 23 in Virginia, will be a economic boost to the southern coalfields.

"This will do for us and for southern West Virginia what Route 119 has done for Danville, Madison, Chapmanville, Logan and Williamson and what U.S. 19 has done for Summersville, Oak Hill and Fayetteville," Goode said.

Justice said it's a shame it's taken so long for Wyoming County, which has contributed to the U.S. with the mining of coal and veterans in the U.S. Armed Forces, to get a four-lane highway.

"We don't need to stop here," Justice said. "For crying out loud we need to stop when it's done and it's going to be done."

Justice predicted that would take place with or without a federal infrastructure program.

"Just like this and just like Corridor H, Corridor H needs done but this needs done in southern West Virginia. This needs done now," Justice said.

U.S. Senator Joe Manchin called the completion of the nine-mile stretch "a great day for southern West Virginia."

"During my time as Governor, I worked to get the funds and flexibility needed to complete this project, and I'm proud of everyone who has worked tirelessly to make this a reality," Manchin said in a statement released by his office. "This is a wonderful achievement for West Virginia and I look forward to seeing the next section of the Expressway completed."

State Deputy Highways Commissioner Jimmy Wriston said Thursday additional sections of the highway are currently under design.

"Once we actually go to the next construction section, which will be over in McDowell County, then we will have from that point on, one section of road under construction and design until we are finished and connected to Route 23. That's exactly what will happen," Wriston said.