Mining History Takes Center Stage in Pennsylvania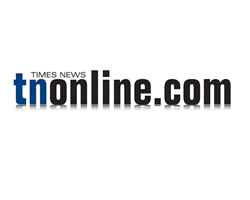 By Donald R. Serfass
July 12, 2021 - Fascination about the rigors of coal mining drew hundreds to the area's largest anthracite coal celebration.
The 14th annual Coal Miners Heritage Festival presented Sunday by the No. 9 Coal Mine and Museum in Lansford, PA attracted a diverse crowd looking to spend a day learning about and celebrating an industry that helped to build our nation.
Many were local folks just discovering major attractions located in their own backyard.
"I'm excited to go into the mine," said McKenzie Habel of Summit Hill, on hand with David Wensel and daughter Emery, 14 months.
As is often the case, many visitors arrived from out of the area.
For Rex and Cheryl Serfass of Macungie, the day provided an opportunity to return to Cheryl's roots. She is the former Cheryl Praskac of Summit Hill.
The couple particularly enjoyed seeing a "Wash Day at the Patch" exhibit by Ruthie O'Dell of Plains and Diane Blakeslee of Georgetown. The two were dressed in 1800s garb and used washboards, Fels Naptha soap and a wringer washer to demonstrate how laundry was typically done at a patch town.
"I remember this from years ago," admitted Rex.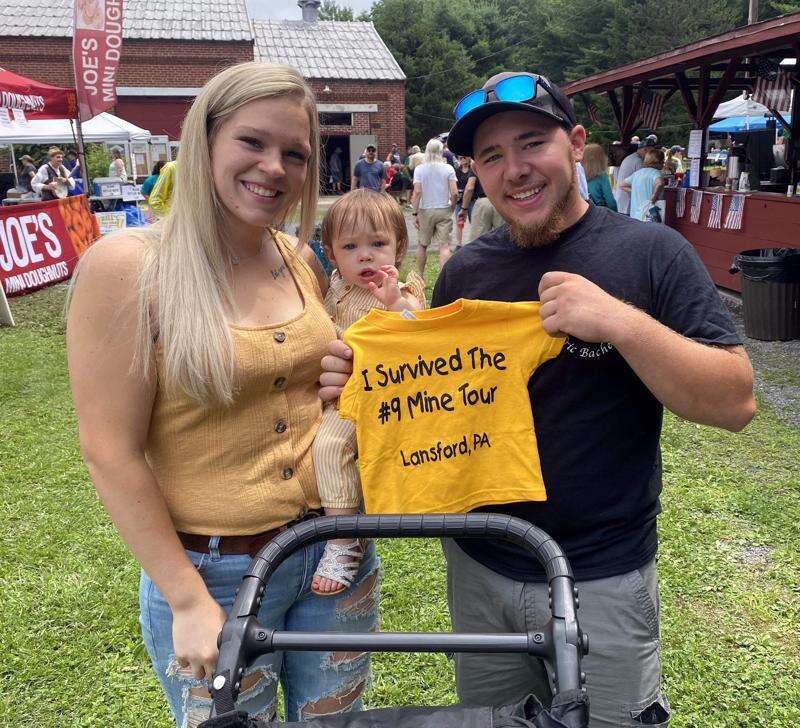 McKenzie Habel and David Wensel of Summit Hill said it's not too early to introduce young daughter, Emery, 14 months, to the enrichment of coal mining heritage. The family enjoys an outing Sunday at the 14th Annual Coal Miners Heritage Festival in Lansford, PA.
Charles Long and John Shucavage of the Tamaqua Anthracite Model Railroad Club operated an outdoor HO scale train display and answered questions about the railroad. Both are experts in the field.
Long retired after 38 years with the Reading Company, Conrail and Norfolk Southern Railroad.
"I was in train service and then a mechanical electrician and welder," said Long, describing many different hats he wore during nearly four decades of his career.
The group meets every Thursday at 6 p.m. in the former Masonic Temple, Tamaqua, and welcomes new members.
Many of the visitors arrived hungry. Fortunately, local hosts made sure plenty of ethnic goodies were available.
One of the big draws was the bleenie stand operated by Coaldale Fire Company.
"We always sell out. We never have any leftovers," said Chief Steve Polischak. He and Lt. Joe Shamonsky were busy working the grill while volunteer Holly Adamitis, Coaldale, took orders and served up the finished product.
Bleenies are sometimes called potato pancakes. Coaldale Fire Company uses its own special recipe.
"We also do it for the block party and for the Lansford Fire Company food truck festival," said Polischak.
Like many of the organizations taking part, Coaldale Fire Company welcomes new members. Anyone interested is encouraged to contact the fire company or any of its members.
Visitors had the opportunity to take underground tours of the No. 9 Coal Mine, the world's oldest operating deep mine, having been opened in 1855 by the Lehigh Coal & Navigation Company. It was last mined in 1972 by the Lanscoal company.
Radio personalities also drew fans to the event.
Polka Joe Manjack of the WLSH 105.5 FM Magic Polka Machine manned a live broadcast.
At the same time, historian Mark Marek of the Coal Region Connections Show of WMGH 1410 AM hosted a first-ever meet and greet of callers and listeners. The event was the idea of longtime history enthusiast Herb Curvey of Tamaqua. Sadly, Curvey passed away in June but was remembered fondly by those who took part.
Manjack and Marek have well over 90 years combined on the local airwaves.
The Breaker Boys, Stu Richards of Orwigsburg and Tommy Symon of Black Heath, entertained with stories and ballads while minstrel Dave Matsinko strolled and performed heritage music. All day long, contemporary music was provided by DJ Shawn Frederickson.
The event carried a strong coal mining theme and offered plenty of cultural and educational opportunities. The National Museum of Industrial History also took part.
On display were a 1920 Lehigh and New England Railroad model T pickup truck, a 1946 Old Company's Lehigh Coal pickup, a 1950s Fauzio Strip Mining pickup, a 1920s Studebaker family sedan, and an early 1970s restored high-lift coal home delivery truck from Rarick's Coal.