MSHA Pillar Collapse Initiative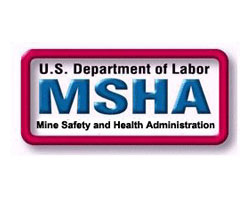 November 5, 2021 - Since October 2020, four massive pillar collapses have occurred in U.S. limestone mines. Each was accompanied by a powerful air blast and the formation of a large surface sinkhole. Fortunately, they did not result in any injuries. Another massive pillar collapse occurred in 2015, and in that instance, three miners were seriously injured by the air blast. All of these collapses occurred where floor mining, or benching, had increased the height of the pillars. Three of the recent collapses occurred in "legacy" areas where mining was completed many years ago.
MSHA has resources available to raise awareness and avoid these accidents at underground mines, particularly limestone mines. A special initiative website is now available to miners and mine operators, which provides poster safety alerts, videos, technical papers, pillar design guidance, and information on upcoming training seminars. The seminars are now being scheduled in coordination with MSHA Enforcement District Offices and will be presented remotely via Microsoft Teams. A certificate for four Professional Development Hours (PDHs) will be provided to participants.
For information on the Pillar Collapse Initiative, please visit www.msha.gov/PillarInitiative.