New Generation of Australian Coking Coal Emerges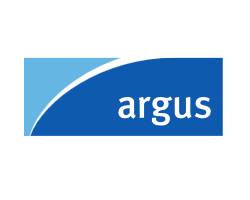 By Jo Clarke
November 17, 2021 - There are more then 100mn t/yr of feasible metallurgical and associated thermal coal projects in Australia that could be developed to bring additional supplies to the seaborne market if current high coal prices are sustainable.
Entrepreneurial coal firms that picked up projects or old mines over the past few years of depressed metallurgical coal prices are already moving ahead with restart projects, like the 1mn t/yr Gregory-Crinum and 1.2mn t/yr Bluff mines in Queensland. Others paused during the Covid-19 pandemic are reinvigorated and pushing toward construction or final approval, such as the 3.5mn t/yr Tahmoor South extension and the 15mn t/yr Olive Downs mine with a stage one phase of 4.5mn t/yr.
A new generation of Australian mid-tier firms are developing, with Stanmore taking on UK-Australian mining firm BHP's 80pc stake in the BHP Mitsui Coal (BMC) joint venture, Pembroke pushing forward with Olive Downs, Bowen Coking Coal aiming for 5mn t/yr of mined coal in 2024 and Fitzroy Australia reopening the 1mn t/yr Broadlea mine and starting construction of its 2.7mn t Ironbark No.1 project this year. These firms could replace the mid-tier firms Gloucester Coal, Macarthur Coal and Felix taken over by Glencore, Peabody and Yancoal respectively around 2010 when coal prices were higher than average.
Fewer Development Barriers
These new mid-tier firms have lower internal barriers to coal mine development than the incumbent big producers. BHP has put its 14.5mn t/yr Red Hill Mining and 7mn t/yr Saraji East metallurgical coal mines on hold while it focuses on productivity boosts at its market-dominant BHP Mitsubishi Alliance operations, because these major coal projects cannot compete with other growth options within its diversified portfolio.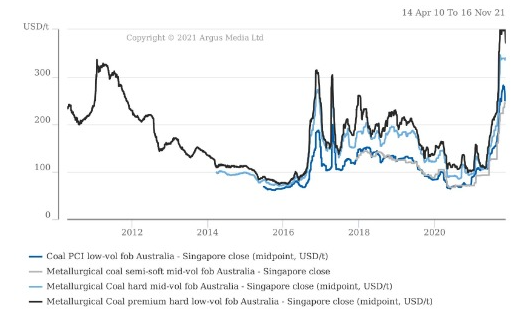 Metallurgical coal prices ($/t)
BHP's agreement to sell BMC to Stanmore is likely to put the 6mn t/yr Wards Well metallurgical coal project back on the table, if Stanmore can find the financial backers to manage such a large project. The 4.5mn t/yr Eagle Downs coking coal project could follow suit, if South32 finds a suitable buyer for its 50pc stake and Aquila adds its 50pc holding to its 'for sale' list.
Larger companies like Glencore and Whitehaven may be slower to move, but sustained firm prices and upgrades to medium-term price outlooks are likely to see them revisit projects like the 20mn t/yr Valeria and 15mn t/yr Winchester projects. Anglo American has significant growth options that it will be able to pursue once its 5mn t/yr Grosvenor mine is restarted this year, after safety concerns relating to the explosion at the mine in May 2020 have been addressed.
Spot premium hard coking coal prices more than trebled from early May to a high of $409.75/t fob Australia in mid-September before easing slightly. Argus last assessed the premium hard low-volatile coking coal price at $372/t fob Australia on 16 November, up from $110.95/t on 11 May. Lower grade metallurgical coal prices have also increased at a slightly lower rate. Argus last assessed the pulverised coal injection grade low-volatile price at $251.90/t fob Australia on 16 November, down from a high of $282/t on 22 October but up from $106.50 on 17 May.