Register Now for the 12.01 FECM Carbon Management Webinar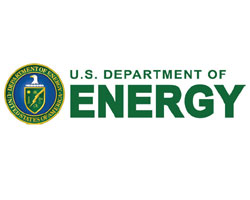 You're Invited: The FECM Carbon Management Webinar
Helping Meet the United States' Net-Zero Goals
Did you know that the atomic mass of carbon is 12.01? That's why we chose December 1st (12.01) as the date for the Carbon Management Webinar, hosted by the Office of Fossil Energy and Carbon Management (FECM).
This webinar will highlight the U.S. Department of Energy's (DOE's) efforts to advance a suite of approaches to mitigate carbon emissions from the power and industrial sectors and remove carbon dioxide from the atmosphere in order to meet the Biden-Harris Administration's goal of net-zero emissions by 2050.
The Carbon Management Webinar will feature FECM experts Dr. Jennifer Wilcox, Acting Assistant Secretary; Dr. Shuchi Talati, Chief of Staff; Dr. Emily Grubert, Deputy Assistant Secretary for Carbon Management; and other carbon management experts.
Join us on 12.01 at 12:01 p.m. EST.